"It's all about the memories"
Game Head Mount Taxidermy in Sandpoint, ID


Steve and Maggie Cogburn own and run North Idaho Taxidermy. We are four miles off Highway 95 and Selle Road near Sandpoint, Idaho.
Are you looking for a professional taxidermist in Sandpoint, Idaho or the surrounding areas? North Idaho Taxidermy is Sandpoint, Idaho's most experienced taxidermist. It seems to be the one thing they would actually enjoy doing. A fresh look towards artistic mounting. However, the quality of any mount is determined by the taxidermist's skill and talent. See our list of taxidermy services for more information. We specialize in Game Head Mount Taxidermy, Shoulder Mount Taxidermy, Pedestal Mount Taxidermy, Life-Size Mount Taxidermy, and Rug Mount Taxidermy. Our taxidermy shop offers a full range of taxidermy services, with a wide range of options to choose from. We strive to go above and beyond for our customers, and we are confident that you will enjoy working with us!
If you have any questions or would like an estimate on your next Game Head Mount Taxidermy, please contact or email us at any time!

Email: roostercogburn99@gmail.com
Phone: 208-290-5964
Who is Steve Cogburn...


I have been an avid sportsman since I was a little kid. I shot my 1st buck at age 16!! I have had the good fortune to hunt and fish my entire life; it's what I love to do. My wife and I try to take every opportunity we can to explore the great outdoors, hunting and fishing!!
I have been interested in taxidermy from an early age of 12 years old. I enrolled in Elwoods Northwestern School of Taxidermy and saved my money to buy lessons that was sent to me in the mail. Since then I have learned much on my own, attended taxidermy school and have worked with other taxidermists . I began working in my own shop about 30 years ago for myself and friends only, as I owned several glass shops at that time. Before long I found myself doing taxidermy professionally.

With all my life experiences I have a good sense of the art of making your mount look real and natural; drawing upon my experience in the outdoors. Each mount is a one of a kind!

REMEMBER... "It's all about the memories!!"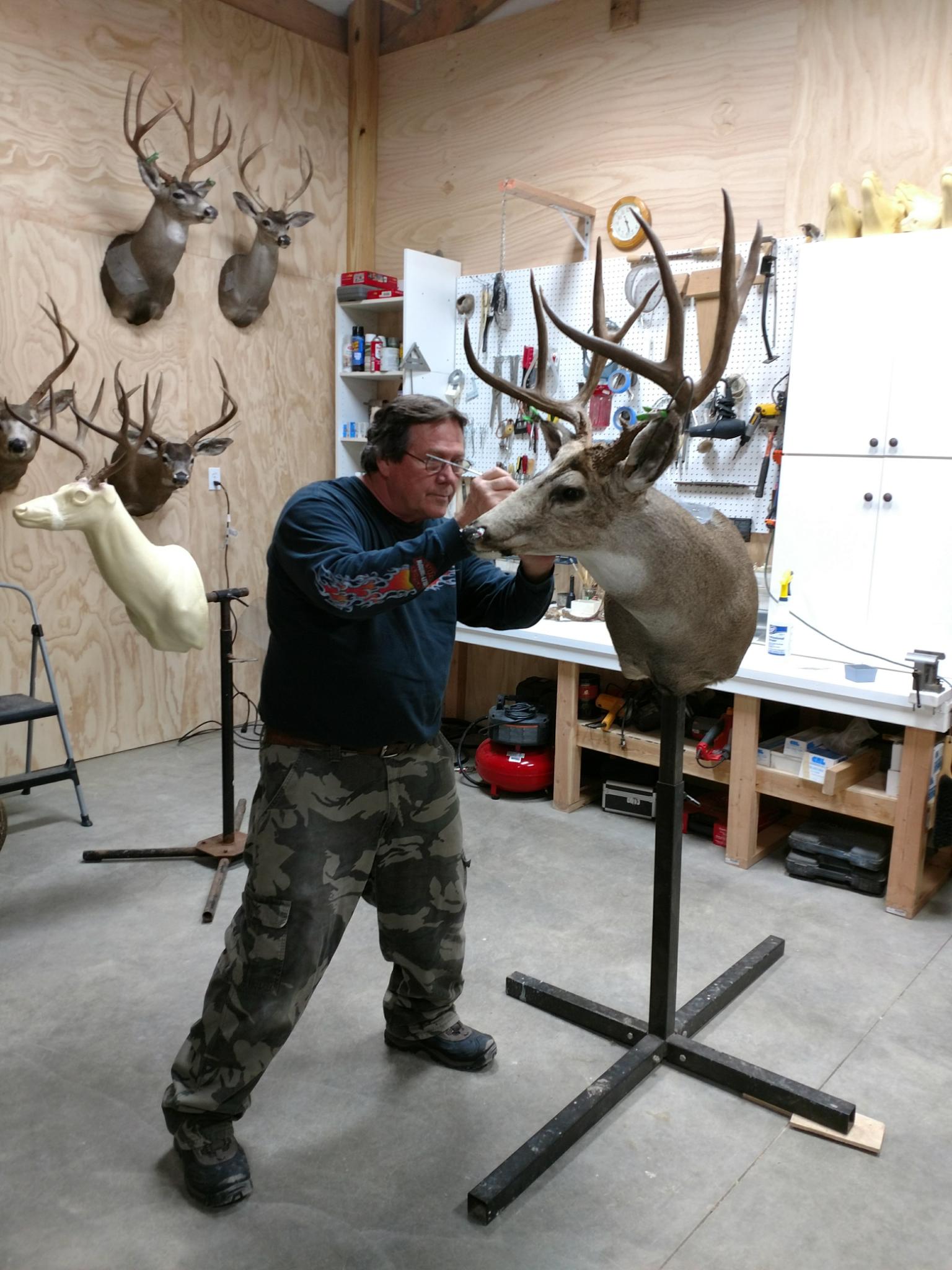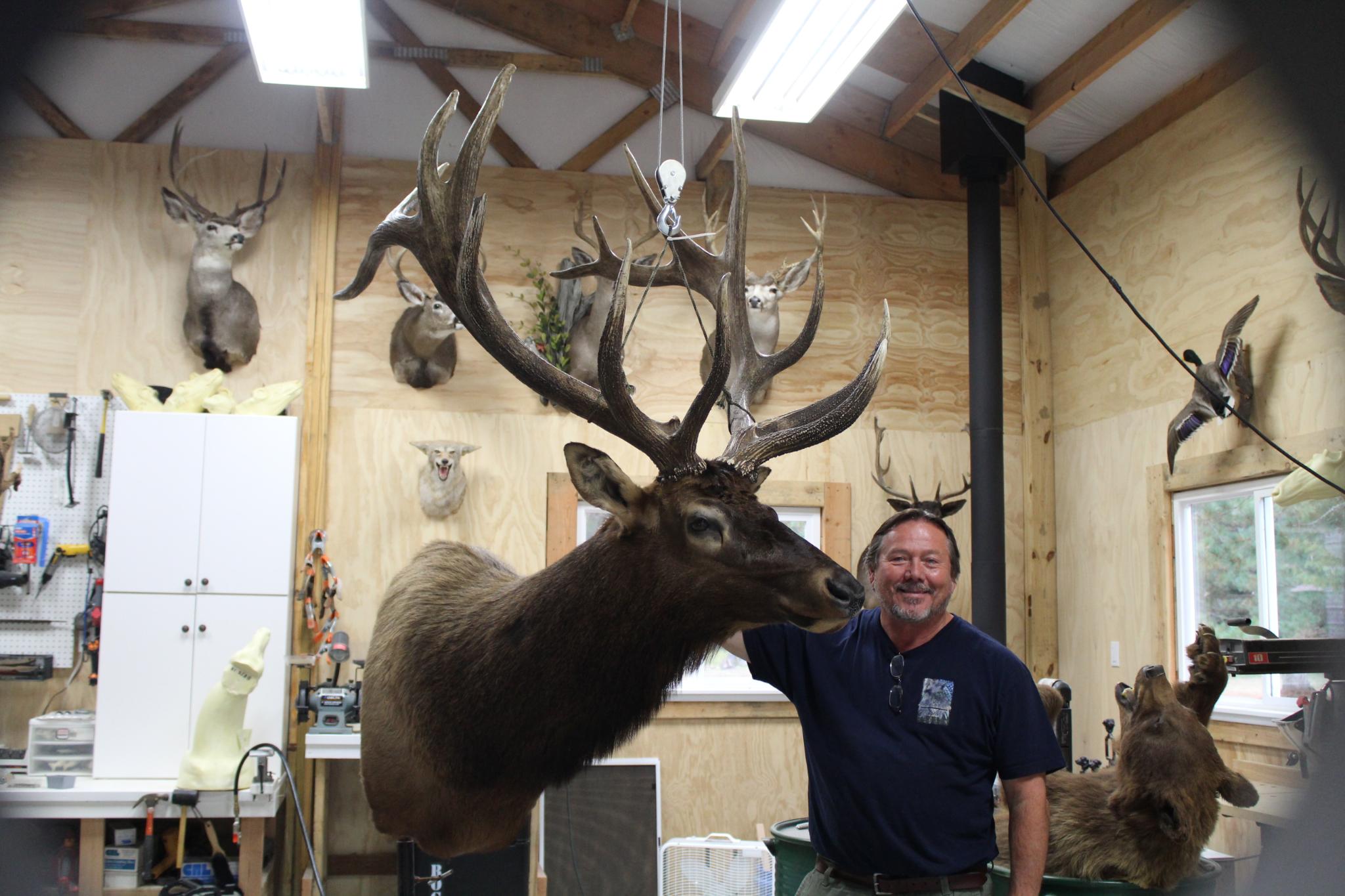 North Idaho Taxidermy Price List as of January 2021
TERMS AND CONDITIONS:
50% deposit is required before any work begins

On completion of the order, the balance of the amount owed is due

All tanning accepted at owner's risk




Delivery is available at additional cost

Unclaimed mounts or skins will be offered for sale after 60 days from first notification
ALL ANIMALS MUST BE ACCOMPANIED WITH TAG AND LICENSE NUMBERS.
SHOULDER MOUNTS:
Deer $600.00
Black Bear (Closed Mouth) $600.00
Black Bear (Open Mouth) $750.00
Elk $925.00 & up
Boar $850.00 & up
Antelope $600.00
Coyote/Fox (Closed Mouth) $400.00
Bison/Moose $1500.00 & up
PEDESTAL MOUNTS: Call for Pricing
LIFE SIZE:
3/4 Mount Black Bear $1300.00 & up

Black Bear $2500.00 & up
Coyote/Fox $700.00 & up
RUGS:
Black Bear (includes open mouth & $1000.00 minimum /
double felt lined) $250.00 per lineal foot
BIRDS:
Ducks/Gamebirds $300.00
Pheasant $325.00
Geese (Snow/Specks) $375.00
Geese (Canadian) $400.00
Turkey (Standing) $700.00
Turkey (Strutting/Gobbling/Flying) $850.00
FISH: Reproduction ONLY (Ready to hang - no base)
Fresh Water Call for pricing
Salt Water Call for pricing
Base Call for pricing
MISCELLANEOUS:
Skulls (Small) $130.00
Skulls (Large) $150.00
Deer Gun Rack $145.00
Elk Gun Rack $165.00
Bear Paw Gun Rack $195.00
Turkey Fan & Beard $125.00 & up
Field Care Instructions
The amount of care you take of your animal or bird in the field has EVERYTHING to do with the quality of the finished product. Poor care can lead to unattractive mounts, costly repair, or complete loss of your specimen. Following these guidelines, and a little common sense, will insure your animal or bird will arrive at our shop in good condition!!


GAME HEADS

NEVER cut the throat.
NEVER hang the animal by the neck with a rope.
NEVER cut down the back or up the brisket.
NEVER get the hide wet.
NEVER drag the animal if possible, especially on shoulders.
ALWAYS get the animal to the taxidermist immediately.
ALWAYS freeze your animal immediately if you can't get it to the taxidermist right away.
ALWAYS save plenty of hide. Too much is better than too little.
ALWAYS insert hide or specimens in plastic bag (just before freezing!!).
Refer to the below drawings as an example on where to cut.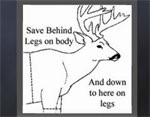 LIFE SIZE MOUNT
If being mounted in a 3/4 or 1/2 life-size mount it should always be cut up the back to the neck, as many animals don't have enough hair on the chest to hide the stitches.
ALWAYS insert hide or specimens in a plastic bag (just before freezing!!)
RUG MOUNT
ALWAYS insert hide or specimens in a plastic bag (just before freezing!!)
The head should be cut at the neck and left in the skin.
Feet should be cut off a the wrist and left in the skin.
Should be cut up the backs of the legs and from the chest to the tail.
Refer to the below drawing as an example where to cut.




SMALL GAME ANIMALS
Should be CASED if possible. Cut up the back legs and invert skin legs to feet, then cut through ankles and leave feet in. Peel (like a sock) down body to head, then cut off its head leaving a couple of inches to measure neck.
BIRDS
After harvesting your bird immediately dab any blood from the feathers with a soft cloth or paper towel.
NEVER wring the birds neck!!!!!
Handle the bird VERY gently and avoid losing ANY feathers. Try to handle the bird only by the feet if possible.
If available, slide the bird in an old pair of panty hose. Otherwise you may wrap it in a dry towel. Place it in a PLASTIC BAG and FREEZE.
Get the bird to the taxidermist as soon as possible.
Birds freezer burn very quickly!





Feel free to contact us with any questions either by emailing or calling!

We look forward to hearing from you!!
Thank you,
Steve & Maggie Cogburn